72 Hours In...New Orleans
There's "the city that never sleeps" and then there is the city that really never sleeps, New Orleans. All of these places I found through stumbling, either physically wandering the streets and thanks to a local I befriended who happily showed me the best spots.
Here's how to spend 3 magical days in the Big Easy.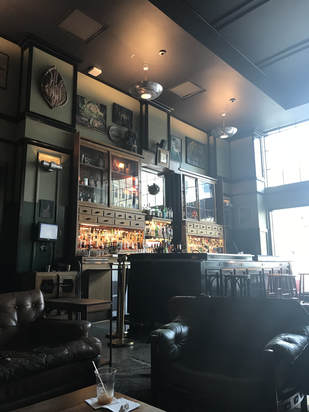 The Ace Hotel is the aesthetic stepchild of The Standard DTLA and a Louisiana swamp. Forest tones, abundant art, and a fortune-telling theme run throughout the hotel, which relies heavily on palmistry iconography and an "everything is an experiment" ethos. Start your morning with a cold brew from Stumptown. In the afternoon, have a frosé at Alto, the ninth-floor rooftop with views of the Central Business District. At night, catch a live jazz show in the in-house club, Three Keys which are sometimes free with an RSVP.
1. For breakfast - Willa Jean
There is almost an equal amount of both savory and sweet breakfast items at Willa Jean's that it was hard to decide which mood I was in. In the spirit of New Orleans I ended up getting the barbecue shrimp toast which wasn't as much toast as a behemoth of thick-cut sourdough, burrata, and barbecue shrimp, topped with edible flowers.
For lunch - Josephine Estelle
If you're already staying at Ace then you don't have to go far for a great meal. At Josephine Estelle, just off the check-in, the American south meets Italy on the menu. Try the John T burger, topped with caramelized onions and crispy cheese.
2. For dinner – Domenica
Let's cut to the chase – Domenica has the best lasagna I've ever tasted. Made with pasta verde, béchamel, mozzarella, pork ragú.
1. With... a side of history
Simply made but definitely delicious, the Ramos Gin Fizz at the Sazerac bar combines egg whites, lime juice, and gin for a cocktail that tastes like a slice of key lime pie.
2. With... a side of jazz
At the Hotel Monteleone, pop into (or onto) the rotating Carousel Bar for the notoriety and then move to the back where it's more spacious and closer to the live jazz.
3. With... a crowd
The world famous hurricanes at Pat O'Brien's are so for a reason. Grab a giant cup and head through the courtyard to the back and listen to the dueling pianos. Sing along and you'll probably meet a few new friends along the way.